REVIEWS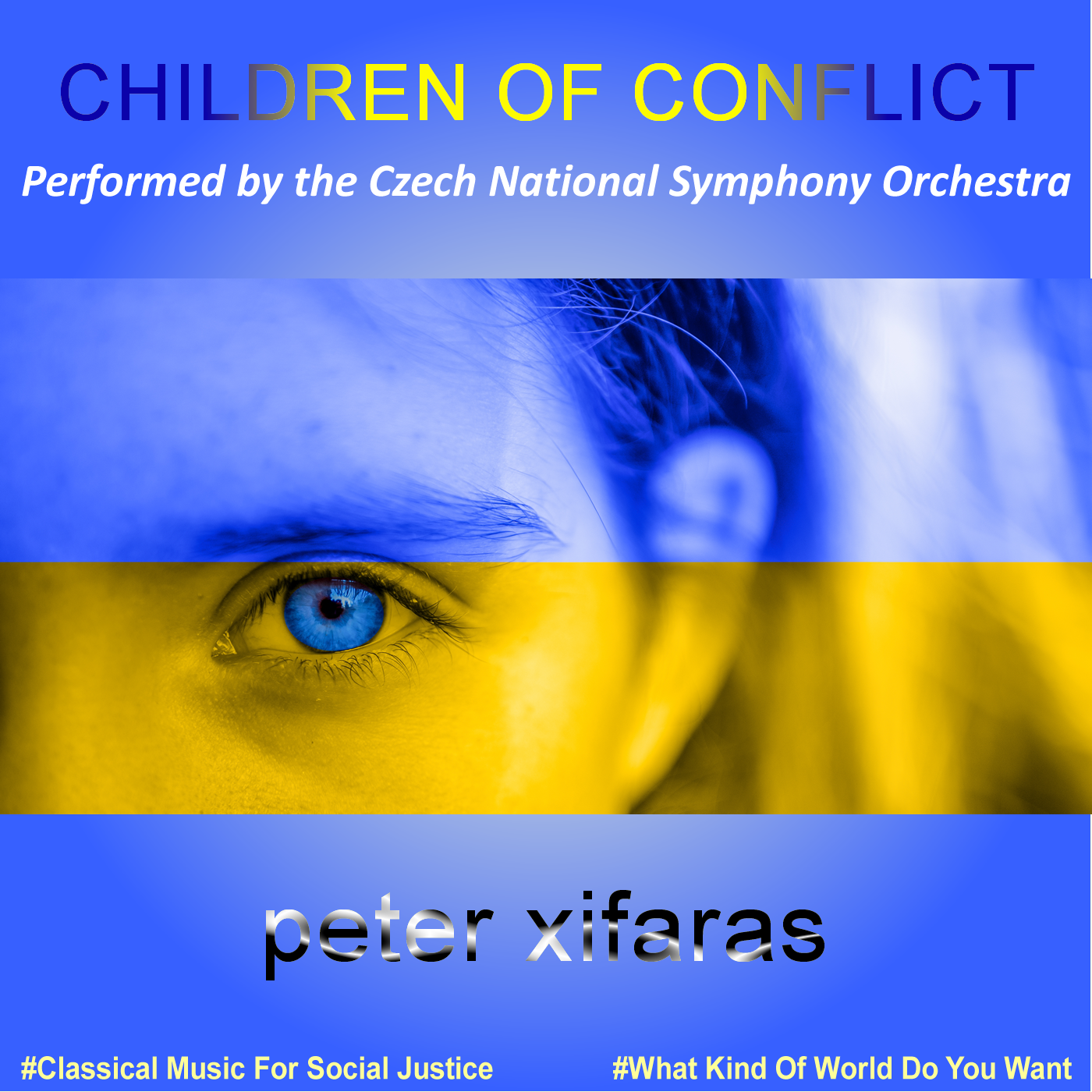 ---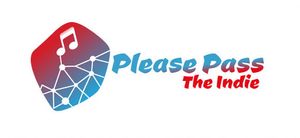 CHILDREN OF CONFLICT is an extremely moving and powerful artistic experience. Xifaras has created a truly unique, immersive multi-modal piece of art with an important message. Tragic tales of people swept up in international conflict are given voice though conscientious, empathetic representation. The music is intricately composed in a way that opens your heart to the sounds while also offering no respite from the serious and emotionally taxing subject matter. Xifaras has found a way to create something not only beautiful and poignant, but also empowering to people in vulnerable situations. Hats off to this brilliant work.
By releasing this opus in conjunction with a video series, Xifaras reinforces the meaning of the music. The unbelievably powerful melodies contained in this work are fragile and sensitive. The work contains enormous strength couched in artistic subtlety. The dynamic range and compositional dexterity demonstrated here is breathtaking. The Czech National Symphony Orchestra, conducted by Marek Štilec, executes this piece with stunning precision. The piece contains six movements, each with their own distinct effect.
PROLOGUE
This haunting movement is a powerful way to get listeners attention and set the tone for what's to come. A drastic melody line hinting at middle-eastern tonalities is developed, melting into staccato string patterns which support a new delicate melodic theme played by violins. Thunderous and rhythmic lower register contributions then sit underneath high-pitched pedal tones creating a huge tension and provoking a deep need to hear the rest of the story. This Prologue is massively successful at grabbing attention and leaving questions unanswered, compelling listeners to listen onward. This movement also features some spoken word, which delivers stark messages in an unsettlingly emotionless tone.
The video shows heartbreaking images of children in war-torn landscapes. The video is processed to show some visual distortion, creating an increased gravity to the images. We also see the Czech symphony orchestra performing this piece with impeccable precision and artistic mastery.
"Fear, the only sound, Destruction the only sight…It was clear, no one would be spared."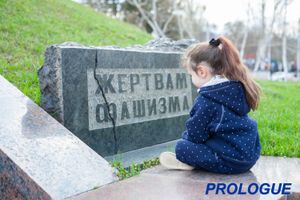 FATHER'S LAMENT
This movement is dense and melancholic. Melodic themes are developed in different registers, creating the feeling of one's mind racing for answers. Cello plays a strong role in the countermelodies as well as a leading melodic instrument. The violin themes are haunting and delicate. Bass is occasionally plucked underneath sustained melodic tones, creating a feeling of conflict. Xifaras utilizes the range of the orchestra brilliantly here, and his juxtaposition of space and density is very effective. The video shows pictures of forlorn fathers and inspires an empathy and a benevolence toward humanity in viewers.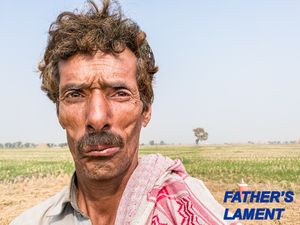 LOST INNOCENCE
In this movement, deep textures create an uneasy, disparate feeling. In a touching homage, the video shows clips of the orchestra, masters of their craft, playing for these children whose life has been forever changed by tragedy. The initially melancholic theme develops into one of hope, with elements of resilience and fortitude. The even rhythms and the crisp, clean melodies over harmonic shifts create a feeling of mournful resolve. This movement ends with the most stunning harmony, as if it is provoking a rhetorical question in the minds of listeners.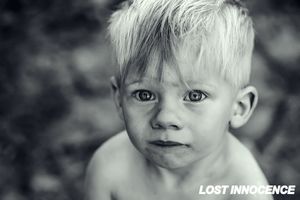 DESOLATION
This movement features complex harmonies that create a feeling of the unknown, unresolved, and unexplored. A lonely cello theme is developed into a wonderfully rich and complicated sound. The pensively explosive melodic theme is subtle, bubbling with intensity just under the surface. The video displays pictures of children mourning, as well as artistic images of humanity being washed away, and crises being imposed on the human mind.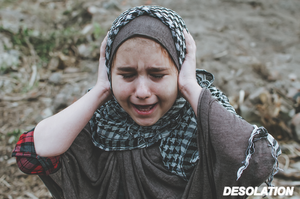 MOTHER'S LAMENT
In this movement, rumbling strings and a full-voiced vocal cry give voice to a catharsis of pain and tension. The theme covers lots of emotional ground here, from pain and desperation to heartbreaking acceptance and a scathing communication of sacrifice. Tragedy and deep rooted trauma are sensitively explored by this gorgeous composition. This movement also offers a virtuosic and highly emotive vocal performance, intermittently featured and blending in with the overall sonic picture of the orchestra.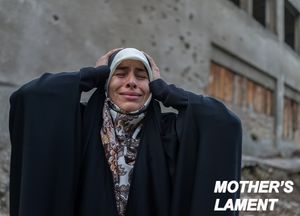 EPILOGUE
In the final movement, we return to the intriguing themes from the prologue, this time with so much more context and investment in the message. This movement opens with a gripping melodic theme which evolves into a creeping violin melody over staccato string support. This movement again hints at middle eastern tonalities and builds toward a massively impactful melodic punch to punctuate the piece. Listeners will be floored by the conclusion.
"For the present, is where the opportunities of the future unwind"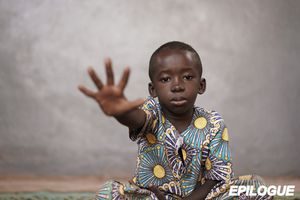 After experiencing the entire work, one is inspired to help the people represented. The music is tragically beautiful, and the visuals are starkly honest. This work is relentless and uncompromising. Quality is on full display from every angle. The Czech National Symphony Orchestra, conducted by Marek Štilec delivers an artistically bold performance of this master work by Peter Xifaras. Bravo!
---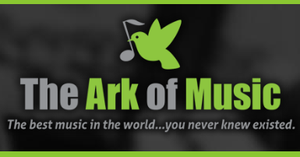 Peter Xifaras is a musical force to be reckoned with. His mastery of multiple genres and instruments is truly impressive, and his ability to cross over between them is even more so. His music has been praised by critics and audiences alike for its originality, emotionality, and sheer power. It's no wonder that his music has topped Billboard's Classical and Crossover charts. Xifaras' music frequently features guest artists from a wide range of backgrounds, and his SymphoneX Orchestra project has attracted international attention. Today we're taking a closer look at his most recent release, an EP titled Children of Conflict.
Children of Conflict is a powerful work, championing social justice for the world's disadvantaged and war-stricken children. The six track EP opens with Prologue, which sets the tone for the entire piece as dramatic and intense, lead by driving strings from the Czech National Symphony Orchestra. This is followed by Father's Lament. Living up to the title from the opening measure, this is a melancholy piece full of longing, bringing to mind sweeping thoughts of a father wanting better for his children than the things the world is handing them. It's both tender and heart-wrenching in execution.
Further on in the project we find the complementary track Mother's Lament. The juxtaposition between the two pieces is quite interesting – the first piece utilizing subtler, somber elements while the latter comes through as a desperate, wailing cry. The inclusion of the female vocals brings the perfect amount of authenticity into the track, forging a human connection beyond what instruments alone are capable of, and it is a striking inclusion. We also love the concluding track Epilogue. While it mirrors many of the elements from the EP's opening track, the cyclical nature of it reminds us that these horrific events that inspired this project's creation are doomed to repeat themselves if humanity does not make a change.
A standout moment on this project arrives at the track Lost Innocence. Opening with rich bass tones and a foreboding melody, we find in this composition moments of solitude, of despair, and of finality. Glimmers of positivity may shine through at times, brought to life by sweet violins, but there is an underlying heaviness here that is impossible not to get lost in. It brilliantly draws attention to a brutal aspect of war that is not considered often enough, and it does so in a way that perfectly imparts the seriousness and importance of the subject matter.
It can be said with certainty that no matter the project, Peter Xifaras always delivers an unforgettable performance. His passion for music is evident in every note he plays, and his commitment to his craft is undeniable. Children of Conflict is stirring and emotive, and Xifras' performance is masterful. This is a must-hear work for anyone interested in either social justice or classical music alike.
---

In a world where music has been trivialised, turned into quick-hit, throwaway fodder, its true power and purpose. Before contemporary music became the stuff of commerce rather than creativity, classical and early music was the true sonic currency able to talk about the heavens above, describe whole seasons in the sweep of a bow, unify nations, move people to tears, to be powerful and poignant and full of purpose.
Peter Xifaras understands this only too well and has crafted a suite of contemporary classical music in six movements with the hope of raising awareness for the plight of those caught up in the recent events in places such as Afghanistan and Ukraine and more broadly, to bring attention to the plight of children around the globe. It's an important message for the innocents who every day suffer all over the world and are at the mercy of rogue dictators and corrupt governments.
And it is a stirring and heartfelt piece, able to softly sweep through low lulls with delicacy and dexterity as easily as it scales the heights of rousing crescendoes and sky-searing sonics.
Mother's Lament is particularly moving, the stirring and soaring strings joined by evocative and exquisite vocals, a real blend of eastern voices and western classical composition, occident meeting orient to glorious effect and every bit as heart-achingly beautiful as its companion piece Father's Lament.
And for all the heartache of movements such as Desolation and Lost Innocence, the Epilogue seems to usher in hope, an optimism found in the energy and euphoric drives and drama of the strings.
The videos which accompany the music are also powerful in their own right, putting into imagery what the music is describing, shattered lives in war-torn towns, images of the innocents, children but also mothers and fathers united in fear and grief struggling to survive in a hell, not of their own making.
Peter Xifaras is the perfect artist to put together such a piece, a contemporary sound built on timeless traditions, himself an artist able to move between worlds, as at home writing such classical scores as he is laying down blues guitar solos.
The result is a piece of conceptual music that is as timely as it is tender, as graceful as it is moving, and as beautiful as it is heart-aching. The only criticism is not of the music but of the world where such music is required. That we need such music with such a harrowing message in the first place is the real tragedy here.
---

"Children of Conflict is a powerful, classical work of music. Over six movements it touches the very soul, as it brings home the senseless,destructive hopelessness of War, of conflict; the wider effect, the long term grief, despair and tragedy which eventually changes nothing".
The above quotation is the introduction to Bluewolf Reviews perspective of Peter Xifaras's latest work Children of Conflict, but who is the man who creates such powerful alchemy through the medium of music and vision; what drives a man to create such powerful music.
Who will speak for the children, who will champion their cause to a life free from conflict?
Peter Xifaras first came into my very small orbit some years ago with a stunningly beautiful album from the symphoneX Orchestra®, Music That Tells A Story. The work took the genres of classical and modern or contemporary and delivered a unique blend that was a creation of immense skill and talent, of love and pure enjoyment.
At the age of nine Peter began taking guitar lessons and by his early teens, he was proficient enough to fill in for his talented older brother who was attending Berklee College of Music at the time, playing rock gigs at the local Clubs.
At thirteen years of age, he found this a great eye opener, but it also solidified his future pathway, as he decided he was going to pursue music as a career. Naturally he followed his brother's lead in pursuing music and decided to audition for the music curriculum at the University.
Audition day arrives and so does he, with his Gibson Les Paul guitar and amplifier, presenting himself to the panel of Judges, who were looking rather bewildered at the long haired teen who had arrived, perhaps at the wrong venue!
His choice of pieces was pure Led Zeppelin but fortunately he saw sense, playing the only Jazz standard he knew, the beautiful 'Misty.' He later discovered he was supposed to have auditioned on the classical guitar! The rest is music history. To this day he still plays both classical and electric guitar and is just as happy belting out a solid piece of rock, or complex jazz beat in either medium.
When the digital revolution arrived it opened a Pandora's box for creative musicians, allowing them to tap into a vast and worldwide range of Musician, vocalists, orchestras and genre's, which has created a flow of music that crosses boundaries, moves into new levels of creativity and allows vision and sound to combine to create powerful, touching, melancholic, beautiful and outstanding concepts.
Now we reach 2022 and the world is a vastly different place in which to create music. Peter reached out once again to promote his latest and to date most powerful work, Children of Conflict, born from a deep sadness experienced when Allied forces pulled out of Afghanistan, leaving behind a vulnerable people, once again placed into the direct pathway of conflict, destruction and devastation.
Then along came the Ukraine Russia conflict, presenting once again the same story the world has grown tired of trying to understand, the media, ever moving on to fresher news stories.
So how can a musician create something that could remind people and bring attention to the plight of children whose lives have been indescribably altered, their parents either gone, or so traumatised they are struggling to simply cope with the ever changing patchwork their lives and futures have become.
The catalyst for Peter was the John Ondrasik (aka FiveForFighting) video Blood On My Hands and as the song a says 'I don't understand what's happenin'.......... and so Children of Conflict was born.
It raises a flag to the children who daily are faced with simply trying to survive in the conflict zones of the world, children who have never had a choice, children who think to live like this is perfectly normal. Once you look into the eyes of the men, women and children captured on the footage that complements the orchestral suite Children of Conflict, it is incredibly difficult to say their lives are anything like 'normal'.
Their deep sadness of their very soul, is there for those to see, who seek to understand and is captured once again through the eye of the camera, the weeping of the violin strings, the faces of the musicians who created the music, the passion and desire to try to make a change through the healing power of music.
Get behind the music, share it with the wider public, support the many in Ukraine and throughout the world, who are reaching out through music to offer hope, healing and love in a time when more than ever, or at least for a very long time, the World needs to heal.
---

Children of Conflict is a powerful, classical work of music over six movements which touches the very soul, as it brings home the senseless, destructive hopelessness of War, of conflict; the wider effect, the long term grief, despair and tragedy which eventually changes nothing
Born into life by the Czech National Symphony Orchestra the suite, all be it a short suite, is coupled with images which are powerful, poignant and not easily forgotten. People, who before the destruction of Afghanistan, Russia, Ukraine began had very different lives, families, homes, tell the story all too well.
The faces of the orchestra as they create each piece reflect the true emotion of the songs being performed. Very real emotion is written on them for all to see. For them, it is more than just music, it is hope, a voice, reaching out through music; through the medium they know best to tell all who would listen a story of hope and despair woven together.
Prologue contains the the words Fear, Destruction, 'it was clear nothing and no one would be spared'. Epilogue holds the spoken words Fate: Despair: for the present, are where the opportunities of the future, unwind' . Hauntingly beautiful and immensely powerful words.
To truly appreciate the powerful message contained within Children Of Conflict, it is vitally important to watch the captivatingly haunting video's while the music unfolds.
Best viewed on a big screen or even a small screen the images create the picture, the music, full of sadness with hidden beauty, brings home the message.
---

WE NEED HOPE: PETER XIFARAS SHOWS US DEEP INSIDE THE LOST INNOCENCE OF THIS HARSH WORLD
Performed by the exquisite Czech National Symphony, Peter Xifaras shows us deep inside a tragic moment for humankind as the tears flow, bloodshed reigns, and bullets fly everyday on Lost Innocence.
Peter Xifaras is a USA-based classical musician, composer, guitarist, orchestrator, and producer who is the mastermind of this deep experience.
Taking us into the destroyed woods where the fire burns deep and the haunting mourning only increases, Peter Xifaras is absolutely excellent on this track that features the outstanding Czech National Symphony.
Lost Innocence from the USA-based multi-talented classical creative Peter Xifaras is a really stunning song that needs to be played loud all over the world. Its texture is packed with true love to the world, as this is a real message that should strike hot to so many who have felt the pain.
Performed to perfection, this is a statement song.